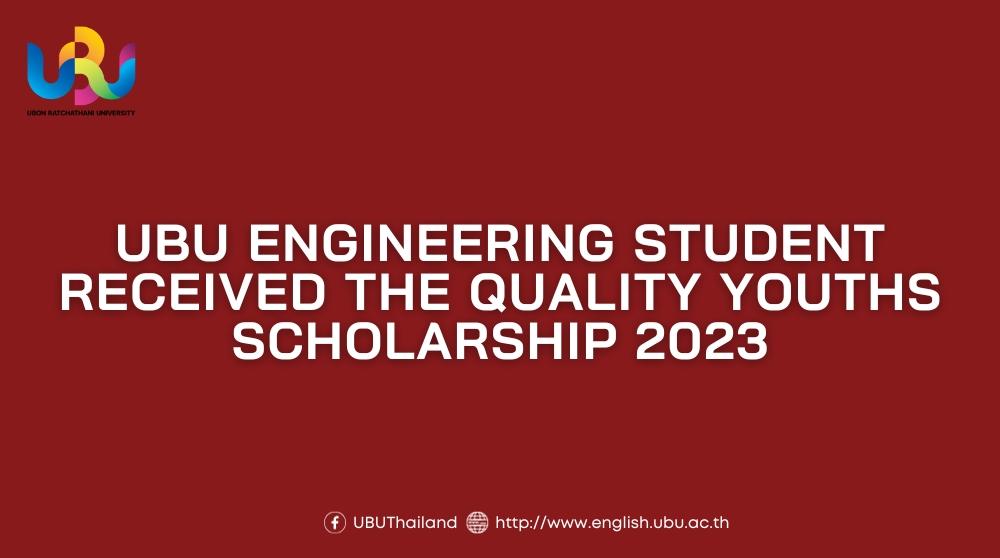 ---
Patcharin Jongjai 2023/09/20 , ( 116 views)
---
UBU congratulates Mr. Sahapon Ninbarat, a third-year student in the Civil Engineering program for his Foundation of Science and Technology Council of Thailand (FSTT) scholarship titled Quality Youths Scholarship of the Year 2023. He received a scholarship of 10,000 baht and a certificate praising him for being a good youth role model. He was one of only nineteen grantees from all over the country.
In addition to his good grades (his GPAX is 3.94), he won the 16th Structural Lightweight Concrete Competition (July 19-21, 2023) at the Rajamangala University of Technology Rattanakosin (Wang Klai Kangwon Campus), Prachuap Khiri Khan, for which Her Royal Highness Princess Maha Chakri Sirindhorn bestowed a royal trophy.
The scholarship ceremony will be held on October 19, 2023, the 15th anniversary of the foundation's establishment and to honor His Majesty King Bhumibol Adulyadej the Great (King Rama IX) as the Father of Thai Technology.
English version by: Kanjana Manomai
Original (Thai) version by: Faculty of Engineering
English revised by: James K. Powell II
Photos by: Faculty of Engineering