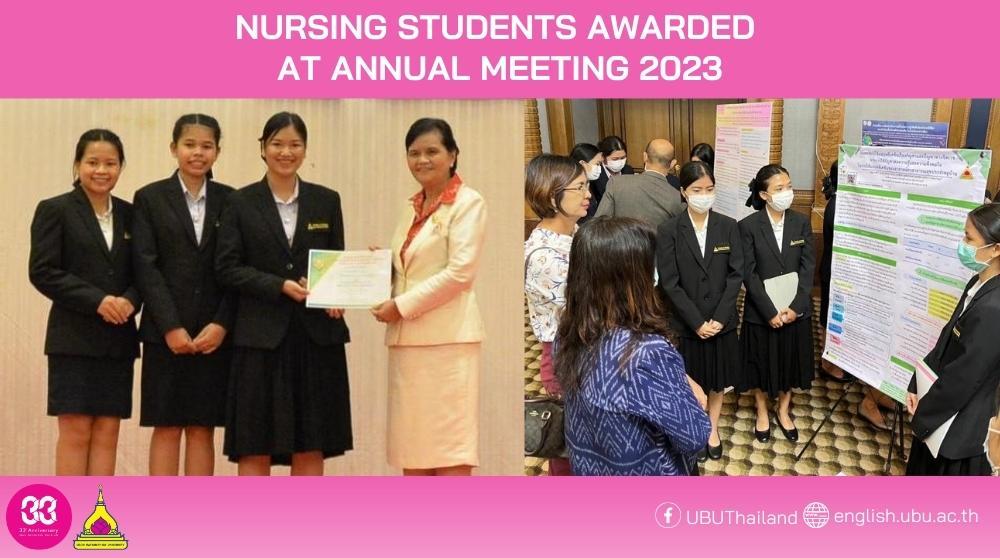 ---
Patcharin Jongjai 2023/08/04 , ( 108 views)
---
Nursing students at Ubon Ratchathani University won 5 awards for research and innovation presentations at the Annual General and Academic Meeting 2023. The meeting took place under the theme, "Smart Nurse: a Nurse's Role in the Digital Age," hosted by the Northeastern branch of the Nurses' Association of Thailand, from August 3-4, 2023, at the Sima Thani Hotel in Nakhon Ratchasima Province. This meeting sought to educate nurses about work changes in the "smart hospital" age and the challenges of a nurse's role in the digital age, such as presentation skills development and knowledge exchange.
Researchers winning awards are as follows:
Poster presentations at the "excellent" level
The Effect of the Use of Marijuana Applications and Psychiatric Problems to Marijuana Use on Knowledge and Satisfaction with the Application among Village Health Volunteers, by Miss Nattha Wongthawee and her colleagues
The Development of an Application Diabetic Emergency Awareness for Diabetics, by Miss Rawipa Sornhom and her colleagues
Poster presentations at the "good" level
Factors Affecting Obesity Prevention Behaviors at Ubon Ratchathani University Students, by Miss Premika In-one and her colleagues
A Study of the Happiness of Diabetic Patients in the Warin Chamrap District Community, Ubon Ratchathani Province by Miss Suthinee Phuangploy and her colleagues
Health Literacy and Accident Prevention Behavior for Parents of Pre-school Children, by Miss Natpimon Tathaduang and her colleagues
These awards are the pride of UBU and are in line with the university council's policies for producing graduates with academic, professional, self-development, and future skills competencies and being good and virtuous people for developing the society and country in the future.
English version by: Kanjana Manomai
Original (Thai) version by: Plern Wichaiwong
English revised by: James K. Powell II
Photos by: Plern Wichiwong