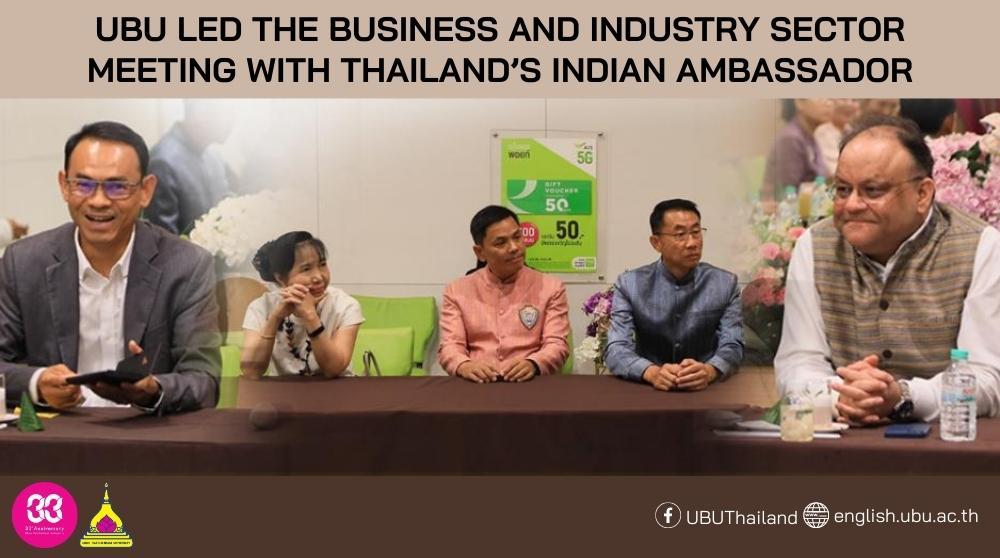 ---
Patcharin Jongjai 2023/08/01 , ( 122 views)
---
On August 1, 2023, the President of Ubon Ratchathani University, Assistant Professor Dr. Chutinun Prasitpuriprecha, and the Vice President for Research, Innovation, and Academic Services, and Director of Ubon Ratchathani University Science Park, Associate Professor Dr. Chawalit Thinvongpituk led the business, industry and private sector network in Ubon Ratchathani to meet H.E. Mr. Nagesh Singh, India's Ambassador to Thailand at the Workshop Room at Ubon Ratchathani's Central Plaza.
This meeting sought the possibility of increasing trade, investment, and tourism in Ubon Ratchathani. Mr. Mongkol Chunlatas (chairperson of the Ubon Ratchathani Chamber of Commerce), Mr. Somchat Pongkapanakrai (chairperson of the Chamber of Commerce of Lower Northeast Region 2), Mr. Sithikun Thiamprasert (chairperson of the Federation of Ubon Ratchathani), Ms. Nalinthip Noywong (chairperson of the Tourism Council of Ubon Ratchathani), all participated. A project entitled "Promoting High-Value Indian and Asian Tourism in Ubon Ratchathani" to drive regional development was the theme of the meeting.
H.E. Mr. Nagesh Singh stated that Ubon Ratchathani is highly efficient and is 1 of 2 Thai provinces in which India will promote cooperation beyond Bangkok through the "3T's": Trade, Technology, and Tourism. Factors promoting the economy included trade as a gateway to the Mekong region, upcoming investments, industrial expansion in Ubon Ratchathani, and organizing high-value tourism and wedding packages for Indian tourists. The embassy of India enthusiastically collaborated with data exchange and cooperation regarding the project.
The project coordinator is Ms. Sirintip Chaonuea, Ubon Ratchathani University Science Park manager, while Ms. Wilaiwan Larlaeng, Innovation Manager from the Ubon Ratchathani Provincial Agriculture Office, Ms. Sarawadee Thiamprasert from the Federation of Ubon Ratchathani, and Assistant Professor Dr. Oranuch Puangsuk and Assistant Professor Dr. Piyanat Soikham from Ubon Ratchathani University all cooperated to develop this project.
English version by: Kanjana Manomai
Original (Thai) version by: Ubon Ratchathani University Science Park
English revised by: James K. Powell II
Photos by: Ubon Ratchathani University Science Park