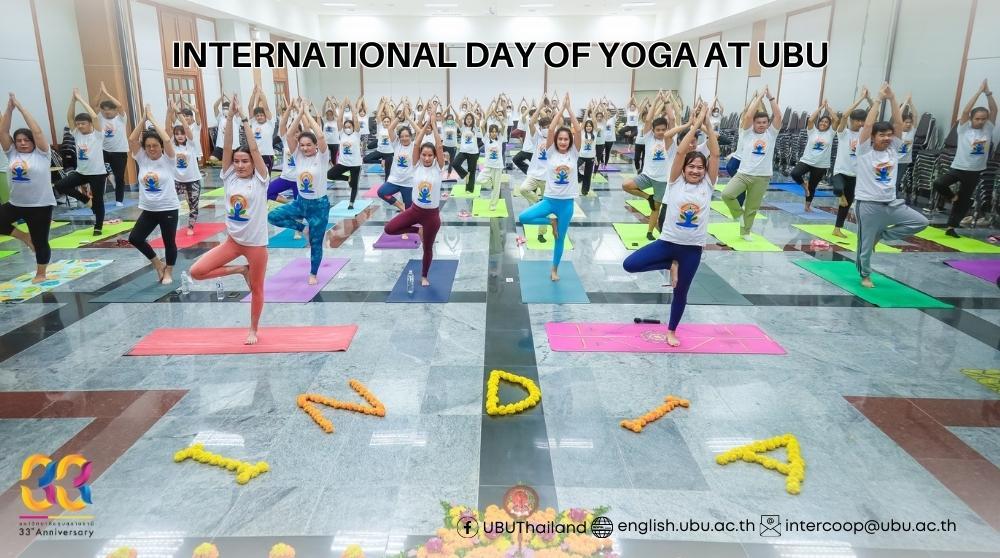 ---
Patcharin Jongjai 2023/06/16 , ( 162 views)
---
On June 16, 2023, the Faculty of Political Science at Ubon Ratchathani University (UBU), in collaboration with the Indian Embassy in Thailand and the UBU India Studies Group, and network, organized the International Day of Yoga. This was in conjunction with 175 countries worldwide entitled, "Yoga at Ubon Ratchathani 2023" held at the Faculty of Political Science. This was the third year of the event.
The yoga activity was hosted by Dr. Siriporn Jantanasakulwong, the chair of the Yoga and Indian Culture Club and deputy chief of the Indian Studies Group of Ubon Ratchathani University. More than 150 people participated in the activity, and flower mandalas were also provided at this event.
This activity emphasizes the relationship between India and Thailand through "Yoga diplomacy", disseminating healthcare culture with an emphasis on yoga's mental and physical integration.
English version by: Kanjana Manomai
Original (Thai) version by: Ubon Ratchathani University
English revised by: James K. Powell II
Photos by: Ubon Ratchathani University