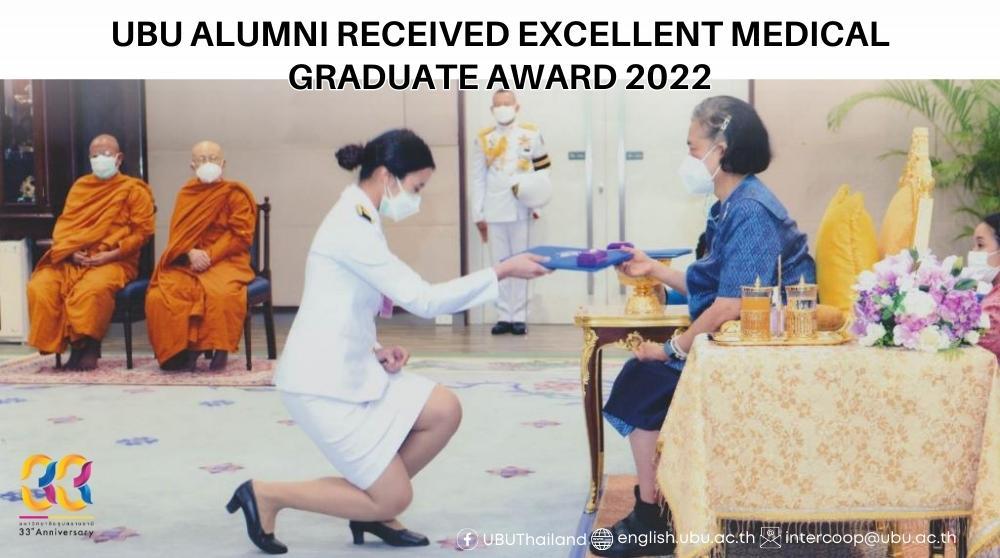 ---
Patcharin Jongjai 2023/06/19 , ( 177 views)
---
UBU congratulates Miss Sutharat Sathukarn (M.D.), a UBU alumni medical student for her Excellent Medical Graduate Award 2022. She received the certificate and badge from Her Royal Highness Princess Maha Chakri Sirindhorn at Sra Pathum Palace on April 7, 2023. This event was hosted by Somdet Phra Mahitaladhibesra Adulyadej Vikrom Praboromarajchanok. On this occasion, the Thai Medical Women's Association under the Royal Patronage of Her Majesty the Queen, who supported the scholarship for her study, also joined in congratulating her on that day.
Miss Sutharat Sathukarn (M.D.) graduated Doctor of Medicine Program at the College of Medicine and Public Health, Ubon Ratchathani University with first-class honors. Now, she works at Sri Sa Ket Hospital. Her outstanding work includes research entitled "Medical education and clinical research in COVID-19 pandemic" (first place at the national level) and "Nutrition alert form and GILM criteria in general surgery patients, Sunpasitthiprasong Hospital" (The first such research in the country). She also joined volunteer activities such as Doctor Camp, and Inspirational Camps for Medical Studies among others.
This is an excellent model for studies to create quality medical personnel who care for the health of the people, encouraged by pride in the project to produce more doctors for the rural people of Ubon Ratchathani University.
English version by: Kanjana Manomai
Original (Thai) version by: Plern Wichaiwong
English revised by: James K. Powell II
Photos by: Plern Wichaiwong