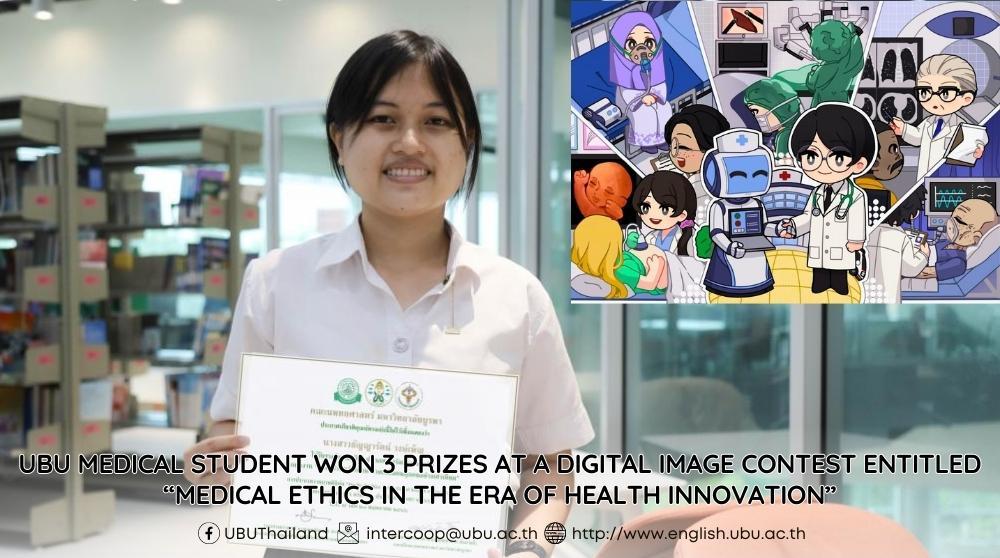 ---
Patcharin Jongjai 2023/05/24 , ( 139 views)
---
UBU congratulates Miss Tanyarat Wongpen, a third-year medical student for her 3 prizes in a digital image contest entitled "Medical Ethics in the Era of Health Innovation". Her 3 prizes consisted of the first prize, the popular vote, and the electronic vote.
The contest was held at Ethics Camp 2023 hosted by the Medical Council of Thailand and the Federation of Medical Students' Association – Thailand under the theme, "Medical Innovation: Progressing Ethically Towards a Sustainable Future", at the Faculty of Medicine, Burapha University.
This camp aimed to encourage medical students to innovate and adhere to medical ethics principles to maintain the respect of society and exchange their experience and views including the application of knowledge in their future profession.
English version by: Kanjana Manomai
Original (Thai) version by: Plern Wichaiwong
English revised by: James K. Powell II
Photos by: Plern Wichaiwong