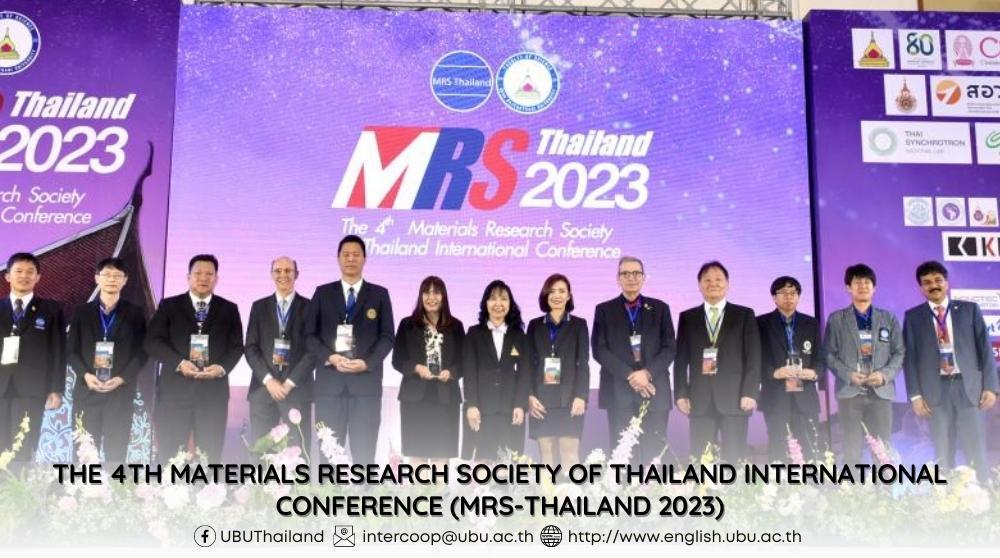 ---
Patcharin Jongjai 2023/02/28 , ( 339 views)
---
The Faculty of Science at Ubon Ratchathani University, in collaboration with the Materials Research Society of Thailand, organized the 4th Materials Research Society of Thailand International Conference (MRS-Thailand 2023) from February 28, 2023-March 4, 2023, at the Sunee Grand Hotel & Convention Center, Muang District, Ubon Ratchathani. Assistant Professor Dr. Chutinun Prasitpuriprecha, President of Ubon Ratchathani University, presided over the conference, and Professor Dr. Santi Maensiri, Chairman of the Materials Research Society of Thailand, offered a report. Finally, Professor Dr. Siriporn Jungsuttiwong, Dean of the Faculty of Science, offered a summary and thanked the participants.
The conference aimed to provide an area for participants to meet and exchange knowledge and new technology with domestic and international materials experts. It seeks to engender cooperation in materials science and technology research at the international level and encourage the publication of peer-reviewed international and national academic journal articles in pursuit of academic excellence and extending research and innovation for commercial utilization. It also promoted the "Materials Research Society" as an important national and international presence as well as serving as a materials cooperation center in Thailand.
More than 392 participants joined the conference which offered 5 plenary talks, 27 keynote speeches, and 63 invited talks. In addition, there were 200 titles for the presentation while the poster presentation presented 100 titles. Participants will receive the opportunity to promote relevant research in both lecture and poster formats, and research certified by experts will be published in international journals.
English version by: Kanjana Manomai
Original (Thai) version by: Tippawan Valuvanathorn
English revised by: James K. Powell II
Photos by: Tippawan Valuvanathorn