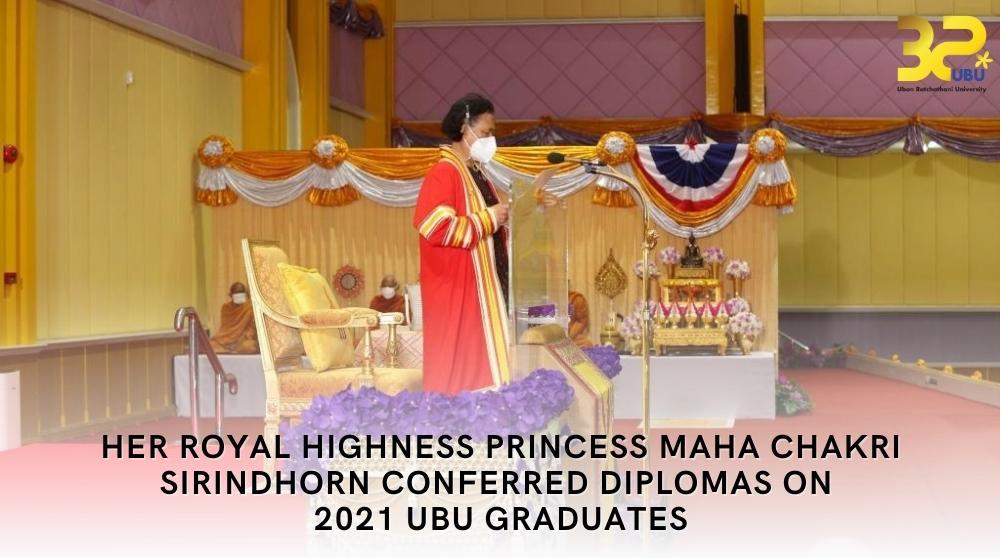 ---
Patcharin Jongjai 2022/12/22 , ( 313 views)
---
At 9:00 AM Thursday, December 22, 2022, His Majesty King Vajiralongkorn, King Rama X, assigned Her Royal Highness Princess Maha Chakri Sirindhorn to confer diplomas to graduates of Ubon Ratchathani University (UBU) for the academic year 2021 (the 31st assemblage) at the 7th Cycle of the King's Birthday Convention Hall, UBU, Ubon Ratchathani.
This year's diploma recipients included 2,748 bachelor's, 66 master's, and 24 doctoral graduates, totaling 2,842 graduates. On this occasion, the UBU council approved three honorary doctorates for 2022 consisting of 1) an honorary doctorate degree in Medicine to Emeritus Clinical Professor Warawut Sumawong, M.D. in Medicine, 2) an honorary doctorate degree in business administration to Associate Professor Krisada Sektrakul in Business Administration, and Associate Professor Darunee Rujkorakarn in Nursing. A Ratthanobon Award was for Associate Professor Sumon Sakolchai for outstanding work and service as a consistently excellent role model for society and the nation.
Her Royal Highness Princess Maha Chakri Sirindhorn subsequently spoke the following to the graduates:
"The diplomas that graduates received today are very meaningful and important because it is accreditation for each person of knowledgeable capability in various academic fields as you have studied diligently and are ready to apply available knowledge and skills to the business of creative work. On this occasion, I would like to mention two things about work for your consideration. First, setting certain goals, scope, and work principles will help to be able to work successfully and directly and also prevents and eliminates delays, extravagance, and waste. Second, there may be some obstacles and problems that arise during work that are hard to avoid but may help in practicing and refining the knowledge and abilities of our people at a high level. Therefore, no matter what your work is, you should set specific goals for performance and take appropriate measures to achieve the goal. If any obstacle or problem arises, please always keep in mind that it is normal for work. You should be stable, use your intelligence to consider problems carefully and thoroughly, and then solve them correctly. The work done will be carried out efficiently and completed according to set goals. Therefore, the graduates have to apply what has been set forth as ideas and practices. You will be able to work and create success and prosperity for yourselves, society, and the nation and that is the meaning and importance of a degree."
This year, Assistant Professor Dr. Chutinun Prasitpuriprecha, UBU President, offered a silk "Pha Kabbua Jogdao" which symbolizes Ubon Ratchathani's identity and is registered as a national and intangible cultural heritage. Associate Professor Sommai Chinnak, a lecturer from the Faculty of Liberal Arts, offered a book entitled, Khampian Chinnak: Local Women's Lives and Roles in a Surin Khmer Family. Mr. Sittinan Sri-on, a lecturer at the Faculty of Liberal Arts, presented a book entitled, Bakinka Isan. Assistant Professor Nuchchanaporn Pijan, a lecturer from the Faculty of Science, offered a cotton cushion, and Mr. Narongrit Kongpong, a representative of the Faculty of Law, offered a handmade silk sarong called hang ka rok, while Mr. Aroonsak Kamjon, a representative from the UBU student organization offered handwoven mudmee silk with the "hol" pattern and products from representatives of community enterprises in Ubon Ratchathani Province.
Ubon Ratchathani University (UBU) has been a university for the past 32 years. There are 77 programs, with 16,651 students. UBU has a mission to produce highly qualified graduates for each profession to meet the needs of industry, including entrepreneurial skills, knowledge, and innovation that can be applied to improve the quality of life at both the local and national levels. This mission aims to transfer knowledge and technology through academic services to meet the needs of recipients, society, and industry including the creative promotion of culture and wisdom of the Northeast to create economic value, and strive to become a leading university in ASEAN which focuses on improving the quality of life for society with the philosophy, "Ubon Ratchathani University engenders consciousness and wisdom for society on the basis of self-sufficiency".
English version by: Kanjana Manomai
Original (Thai) version by: Tippawan Valuvanathorn
English revised by: James K. Powell II
Photos by: Photography team in UBU Graduation Ceramony 2021