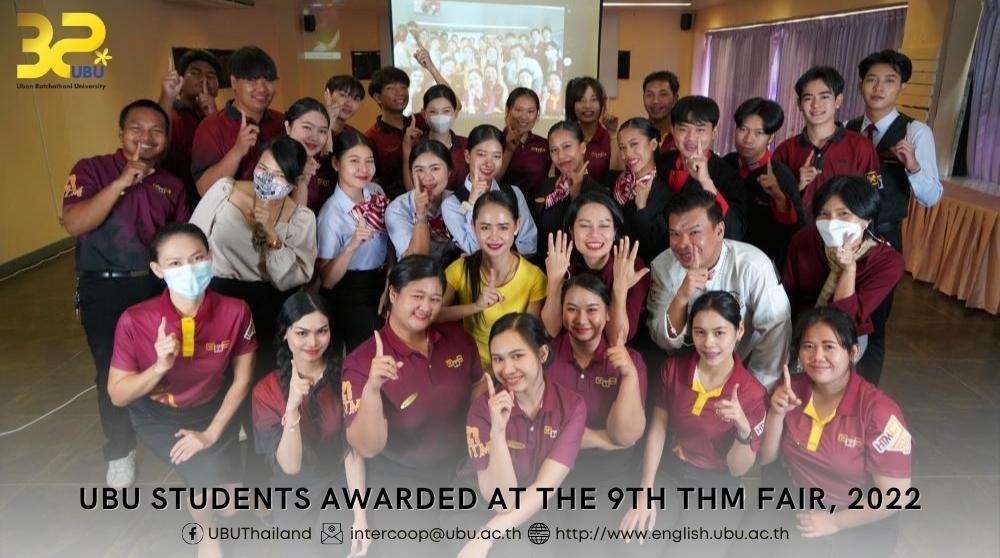 ---
Patcharin Jongjai 2022/12/02 , ( 336 views)
---
UBU congratulates students from the Hotel and Service Innovation Management Program at the Business School for prizes won at the 9th THM FAIR, 2022. This event was hosted by Mahasarakham University on December 2, 2022, via an online platform and offered students from all over the country the opportunity to demonstrate their hotel skills. The following UBU students received 3 prizes from the competition:
First prize in the English Speech Contest:
1. Ms. Sujittra Sidapon
Advisors:
1. Ms. Jirapa Sopon
2. Dr. Sairoong Dinkoksoong
Second prize in the Personality Development Skills Competition:
1. Mr. Sittipong Supab
2. Ms. Titiya Kertosod
3. Ms. Tantip Kampoo
4. Ms. Nadarat Kunlasing
Advisor:
1. Ms. Wararat Boonfaeng
Second prize in the Cake-Decorating Skills Competition:
1. Mr. Kanin Chinna
2. Mr Kittinan Chattanapon
Advisor:
Mr. Purit Nantasen
These awards serve as another source of pride for Ubon Ratchathani University.
English version by: Kanjana Manomai
Original (Thai) version by: Business School
English revised by: James K. Powell II
Photos by: Business School