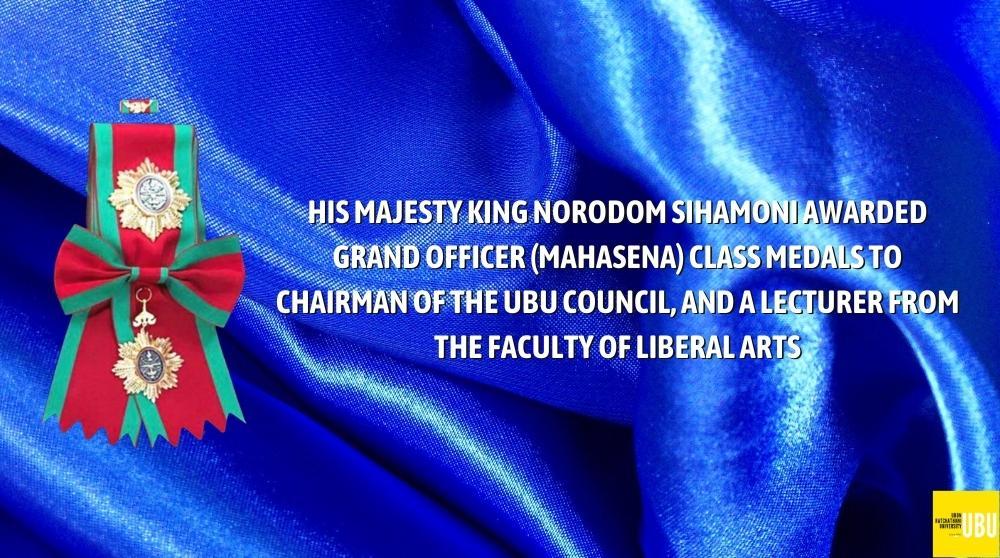 ---
Patcharin Jongjai 2021/10/01 , ( 554 views)
---
UBU congratulates Adjunct Professor Chomchin Chantaraskul, Chairman of the UBU Council, and Associate Professor Sommai Chinnak, a Lecturer from the Faculty of Liberal Arts, who both received a Grand Officer (Mahasena) Class Royal Medal from His Majesty King Norodom Sihamoni, King of Cambodia.
Ubon Ratchathani University's Secretariat of the Senate has cooperated with Cambodian institutions of higher education for over twenty years. This cooperation has consisted of student/staff exchanges, meetings and seminars, scholarship support, training, and involvement with the Vegetable and Fruit Farmer Group Development Project which seeks to elevate the standards of agricultural production in the Kingdom of Cambodia. Moreover, Cambodian royalty used to observe the UBU graduate ceremony and UBU also conferred an honorary doctorate from the Integrated Science Development Program on Samdech Akka Moha Thomma Pothisal Chea Sim, former President of the Senate of Cambodia, on September 27, 2007.
Adjunct Professor Chomchin Chantaraskuloversaw UBU's activities relating to cooperation with Cambodia. This was coordinated by Assistant Professor Pring Phetluan and Associate Professor Sommai Chinnak, who worked as an interpreter.
These honorees are lauded as agents for their work in reinforcing the positive relationship between the Kingdom of Cambodia and the Kingdom of Thailand. His Majesty King Norodom Sihamoni, the King of Cambodia, graciously awarded them with these medals on October 1, 2021.
English version by: Kanjana Manomai
Original (Thai) version by: Therdphoom Thongin
English revised by: James K. Powell II
Photos by: Therdphoom Thongin