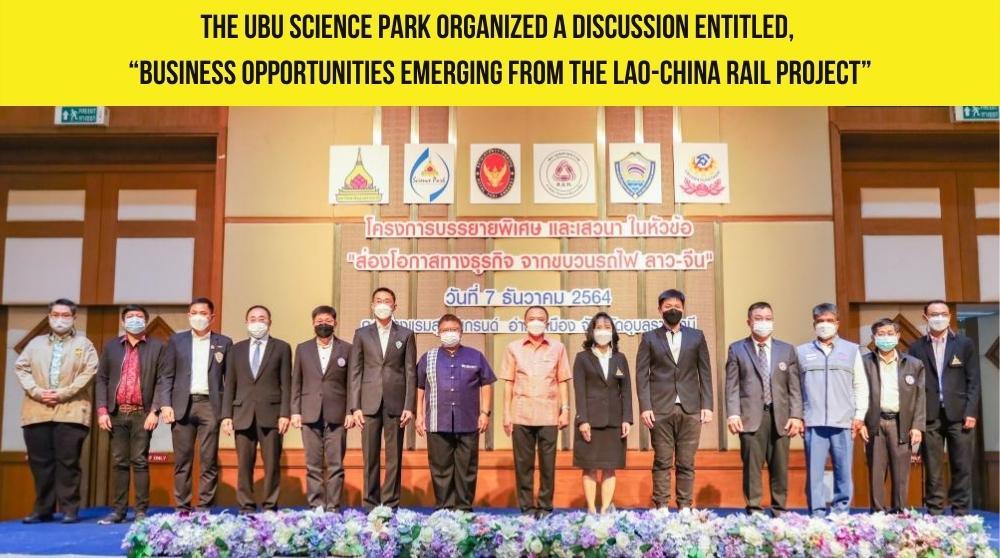 ---
Patcharin Jongjai 2021/12/07 , ( 455 views)
---
On December 7, 2021, the UBU Science Park, in cooperation with the Royal Thai Embassy in Vientiane and the Industrial Council and Chamber of Commerce of the Northeastern region, organized lectures and a discussion entitled, "Business Opportunities Emerging from the Lao-China Rail Project" at the Sunee Grand Hotel. Mr. Pongrat Piromrat, Ubon Ratchathani governor, presided over the opening ceremony, and Assistant Professor Dr. Chutinun Prasitpuriprecha, UBU President, gave a report to the chairman. The lectures were as follows:
"An Overview of the Lao PDR Economy following the Lao-China Railway Project and Guidelines for Supporting Businesses in the Lao PDR" by Mr. Jetsada Katawetin, Thai Ambassador to Vientiane, Laos PDR.
"Opportunities for Logistics System Development in Thailand Connecting ASEAN and China/Opportunities for which People in the Lower Northeast Need to Prepare" by Associate Professor Dr. Aut Pisanwanit, Director of the Center for International Trade Studies University of the Thai Chamber of Commerce.
"Business Opportunities in the Lower Northeastern Region Emerging from the High-Speed Train from Laos to China" by Associate Professor Dr. Piti Sriseangnam, Director of the Center for International Economics, Chulalongkorn University.
A discussion entitled, "Possibilities for Business Cooperation among Entrepreneurs from Isan to Lao and Exports to the Chinese Market" was hosted by Mr. Prajit Chaiyawong, President of the International Shipping Association of Lao, PDR, and Dr. Piti Sriseangnam. The Master of Ceremony was Mr. Chawapot Suppasan, a lecturer at the Business School, Ubon Ratchathani University.
This occasion was a superb opportunity for knowledge exchange along with seeking new business opportunities.
English version by: Kanjana Manomai
Original (Thai) version by: Therdphoom Thongin
English revised by: James K. Powell II
Photos by: Therdphoom Thongin