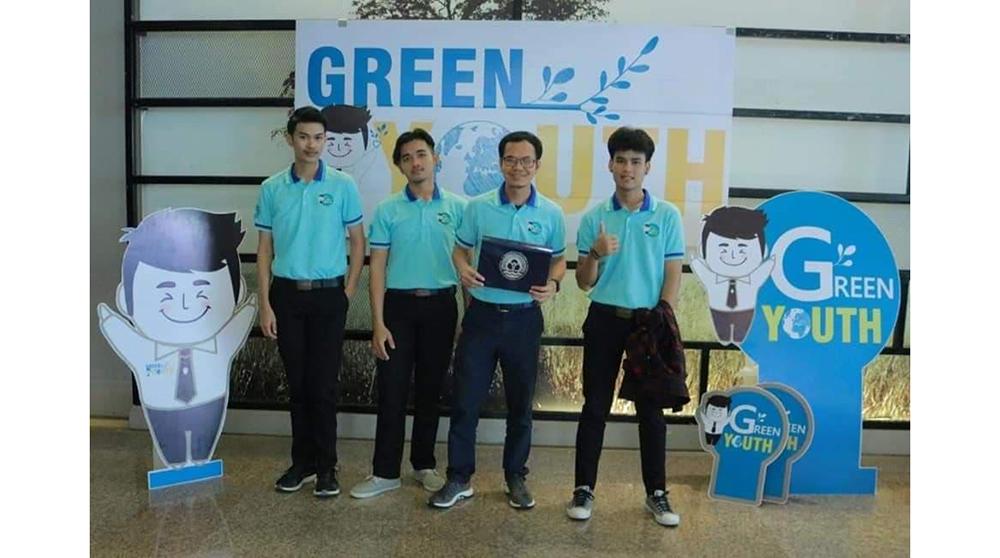 ---
Patcharin Jongjai 2020/02/06 , ( 437 views)
---
UBU proudly announces that UBU Green Club, one of the student clubs at UBU, received the golden medal award from the 2019 National Green Youth Award hosted by Department of Environmental Quality Promotion, Ministry of Natural Resources and Environment. The final selection was held at the Greenery Resort Khao Yai, Nakhon Ratchasima from 3-6 February 2020.
Mr. Ratchawut Kotlakome, advisor of the club shared that the green youth project framework under the project "We Care, We Share" aims to campaign for the reduction of plastic waste from beverage stores. One phone/computer application involved in the campaign, urges students and UBU staff members to reduce the use of plastic cups (source reduction). To use the application, users download it and register through scanning a QR code at the store, taking a selfie with a personal cup, uploading the photo and sharing it on the application.
The application can show the weight of the waste students reduce each time they don't use a plastic cup and the amount of carbon dioxide they are reducing due to incinerating the plastic cups. Moreover, students can receive an extra activity hour for 9 minutes each time. It was reported that 610 students participated in the activity. The total weight of the waste reduction was 10.36 kilograms or 691 cups (1 cup = 15 grams). The amount of carbon dioxide they reduced was 17,477.46 grams.
The most important aspect of this project lies in the use of very accessible online media technology. The campaign appealing to students by offering extra activity hours. Additionally, the activity promotes participation by all levels of members within the UBU community.
Congratulations to UBU Green Club and thanks all participants who helped make this campaign happen.
Translated/revised by: Jarinda Boonjan
Original (Thai) version by: Plern Wichaiwong
English revised by: Thaviny Shaipitisiri
Photos by: Plern Wichaiwong
More :
link 1