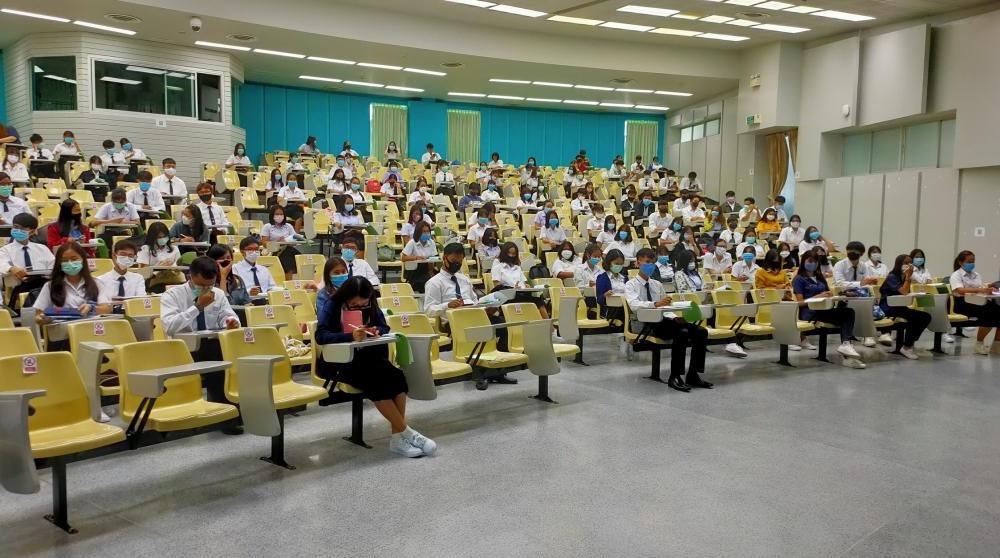 ---
Patcharin Jongjai 2020/06/22 , ( 327 views)
---
UBU started its first semester of the 2020 academic year on 22 June 2020. At the beginning of the semester until 30 June 2020, UBU conducted 100 % of itscourses online. Normal classes on campus and laboratories in conjunction with online teaching started on 1 July 2020 onwards.
By following preventive measures for the Covid-19 virus strictly, the atmosphere on campus during the beginning of the semester was not as lively and crowded compared with the past. However, UBU freshmen are excited to meet new friends, wear student uniforms, study in a new context and format according to the UBU "new normal" model.
Dr. Piyanat Soikham, Assistant to the President for Academic Affairs stated that the Division of Educational Services has prepared classroom buildings well to serve classroom activities. Only one entry and exit point is available in each building. Screening checkpoints are located in the central learning buildings 3, 4 and 5. All students will have their body temperature checked via body infrared thermometers. This process is time-consuming. Therefore, the students are informed to arrive at the checkpoint 30 minutes before the class start time. Additionally, they must check-in via a smartphone application to record classroom access, clean their hands with alcohol gel and wear a face mask.
As for the implementation of preventive measures, seats located inside and outside the classroom are organized according to the principle of social distancing. All seats are not less than 1 meter apart. To ensure cleanliness during the gathering, the common areas are frequently cleaned.
In addition, the Educational Services Division installed webcams on all teachers' desks in buildings CLB 3, 4 and 5. The webcam can be used for online instruction and to record the classroom activity in video format prior to uploading it to the internet. Students can review the lesson from the video clip, said Dr. Piyanat Soikham.
All in all, UBU welcomes all the freshmen to UBU and wishes all UBU students the best in their study and to remain healthy.
Translated/revised by: Jarinda Boonjan
Original (Thai) version by: Plern Wichaiwong
English revised by: James K. Powell II
Photos by: Plern Wichaiwong
More :
link 1