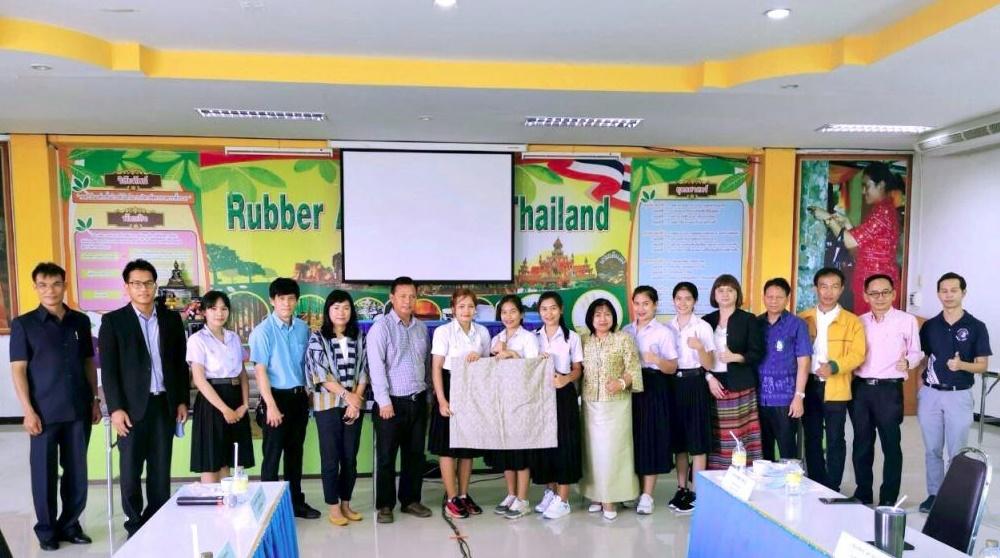 ---
Patcharin Jongjai 2020/06/19 , ( 304 views)
---
On 19 June 2020, the Rubber Authority of Thailand (RAOT) organized the 2020 Rubber and Rubber Tree Products Competition in the southern part of the northeast region. The event was held at RAOT-Northeast Region in Sisaket Province. The competition was divided into two categories. The first category was Local Premium (pillows), which allowed competitors to create rubber products that reflected the uniqueness of their local communities through art and culture. The second category was Creative Rubber Tree Products, where the design and functions of the products were to be emphasized.
On this occasion, UBU Rubber Technology and Polymer Students won two awards under the Local Premium category as follows:
The 1st place winners
The winning product is called the "Srilava Pillow". The members of this team were Suthi Thepmani, Mr. Puttapon Breakontod, Ms.Siriluk Khampech, Ms. Onpriya Sonsi, Ms. Nuttiporn Sa-Ud, Ms. Arthitaya Seanthaweesuk and Ms. Kewarin Saisaema. They received 30,000 baht and a certificate as the award. Moreover, they qualified to attend the national competition round.
The 2nd runner-up winners
The second place product is called the "Yang-na Pillow". The members of this team were Mr. Kanokpol Raseethong, Mr. Kritsana Malapan, Ms. Netnapha Dawsai, Ms. Katsilin Therawan, Ms. Yaowalak Phutchop, Ms. Saifon Hosap, Ms. Nattharika Noppakarw, Ms. Yatima Phurinobpharat and Ms. Yanee Srikun. They were awarded 10,000 baht and a certificate.
UBU congratulates all of the students on their hard work and the first step of their success and thanks Assistant Professor Chaiwute Wudjung, lecturer at Rubber Technology and Polymer Program, Department of Chemistry at the Faculty of Science and the teams' advisor who helped prepare the students. UBU wishes them the best on their next steps of the competition!
Revised/translated by: Jarinda Boonjan
Original (Thai) version by: Tippawan Valuvanathorn
English revised by: James K. Powell II
Photos by: Rubber Technology and Polymer Program, Department of Chemistry, the Faculty of Science
More :
link 1