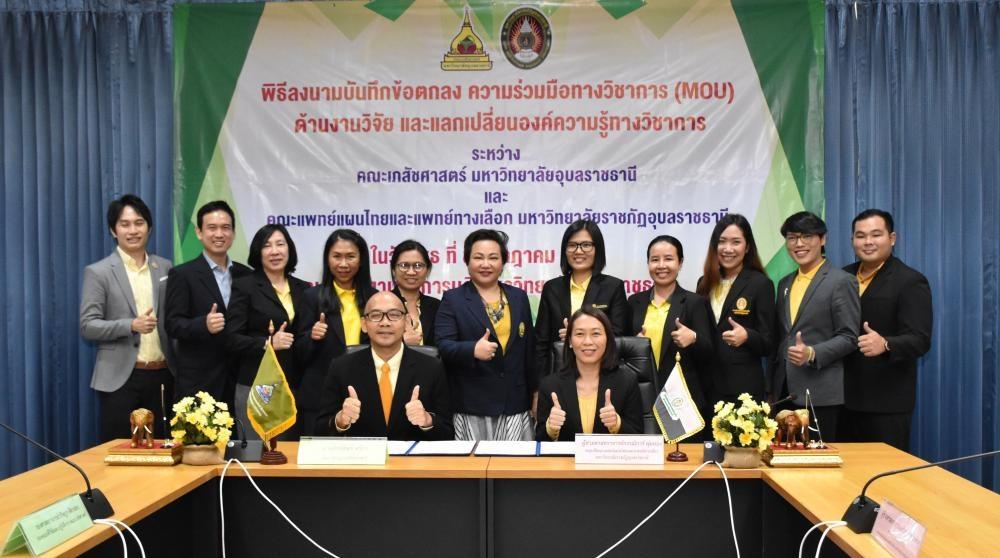 ---
Patcharin Jongjai 2020/07/08 , ( 444 views)
---
The Faculty of Pharmaceutical Sciences at UBU and the Faculty of Thai Traditional and Alternative Medicine at UBRU signed a memorandum of understanding (MoU) to strengthen academic collaboration between the two institutions. The signing ceremony was held in the Buntharik Meeting Room, at the Office of the President Building at UBU on 8 July, 2020. In this special event, Assistant Professor Dr. Chutinun Prasitpuriprecha, President of UBU, delivered her welcome speech to distinguished guests and honorably witnessed the signing ceremony.
The MoU was developed under the Research Collaboration and Knowledge Exchange Project. It was signed by Dr. Saksit Sripa, Dean of the Faculty of Pharmaceutical Sciences, on behalf of UBU and Assistant Professor Dr. Ganniga Pumthong, Dean of the Faculty of Thai Traditional and Alternative Medicine, on behalf of UBRU.
The collaborative issues involve:
- Exchanging knowledge about the genetic preservation of native plants and herbs, Thai traditional medical formulary, health promotion, therapy wisdom and drug production systems for food supplements and the pharmaceutical industries.
- Studying native plants, herbs and Thai traditional medical formulary and extending health promotion and therapy wisdom by the use of science education and technology into the study.
- Observing government policies promoting the use of herbs.
- Encouraging the placement of herbal drugs into the National List of Essential Medicines(NLEM).
- Developing staff and researchers to better address health problems, pharmaceutical industries and government policies in the future.
UBU is very pleased and honored to be a cooperative partner with the Faculty of Thai Traditional and Alternative Medicine at UBRU. With the cooperation, UBU and UBRU will be able to help develop and promote Thai traditional medical wisdom as well as promote the health quality of our people.
Revised/translated by: Jarinda Boonjan
Original (Thai) version by: Tippawan Valuvanathorn
English revised by: James K. Powell II
Photos by: Tippawan Valuvanathorn
More :
link 1