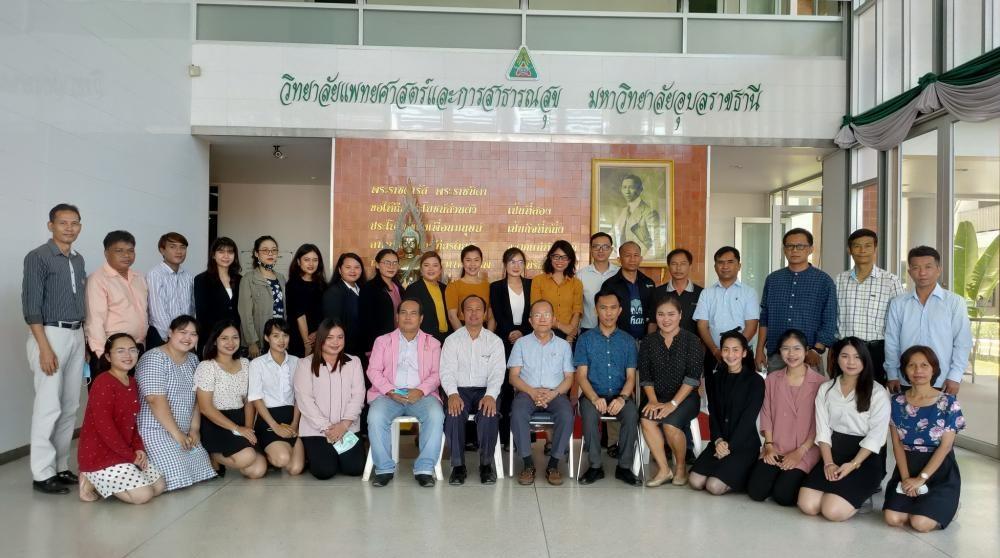 ---
Patcharin Jongjai 2020/06/28 , ( 337 views)
---
On 27-28 June 2020, the College of Medicine and Public Health at UBU organized an orientation for graduate students who are enrolled in the 2020 academic year. Dr. Nirun Phitakwatchara, MD, Dean of the College of Medicine and Public Health presided over the event which was held at the College of Medicine and Public Health. Dr. Phitakwatchara delivered his welcome and congratulatory speech and provided some guidance to the 26 graduate students who are enrolled as the 1st cohort of the Master of Science in Public Health Program. In this special ceremony, white cotton strings were tied around students' wrists, while goodwill and blessings were expressed to the students. Afterwards, executive board members and lecturers as well as learning and teaching management and guidelines were introduced.
Assistant Professor Dr. Niyom Channual, Chairperson of the program stated that the Master of Science in Public Health was opened for the first cohort of students in 2020. The curriculum is unique, outstanding and up-to-date. It focuses on health systems and innovation development. The program aims to enable students to gain more knowledge, increase critical thinking skills and integrate relevant knowledge and working experiences in public health to solve community health problems. Moreover, the course promotes team-working skills, morals, ethics, academic ethics, community responsibility and ability to create new knowledge from relevant research. Lastly, it encourages students to help create public health innovation to promote effective community health management. Most students were from 5 different provinces who are working at public health organizations under the Health Promotion Center-10.
UBU congratulates the graduate students on their first step of their studies and is very pleased to welcome all of them to the university.
For those who wish to apply for the program for the 2021 academic year, please visit www.ubu.ac.th.
Translated/revised by: Jarinda Boonjan
Original (Thai) version by: Plern Wichaiwong
English revised by: James K. Powell II
Photos by: Plern Wichaiwong
More :
link 1