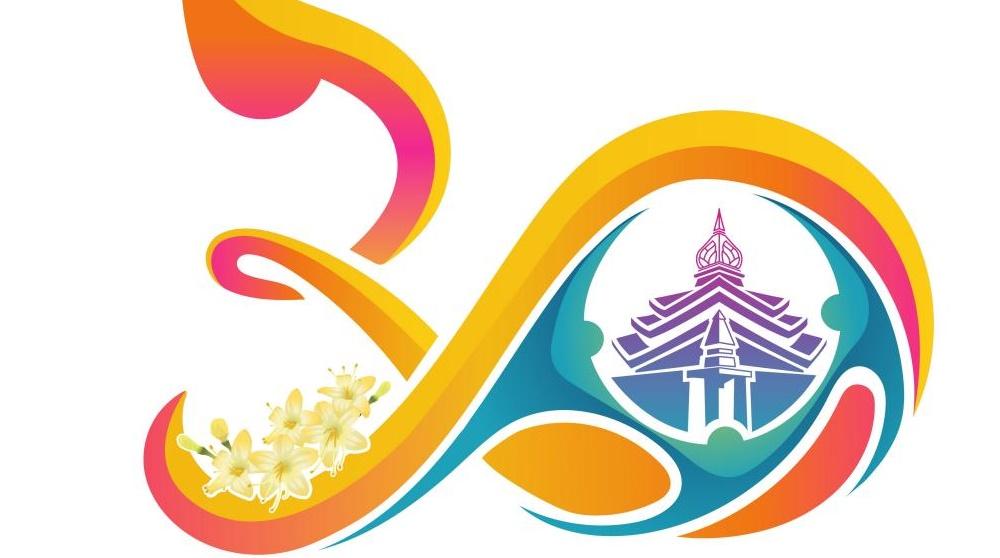 ---
Patcharin Jongjai 2020/07/30 , ( 282 views)
---
UBU was founded in 1987 as a regional campus of Khon Kaen University. In the 1988 academic year, two bachelor degree programs were launched in Agriculture and Engineering. However, the students had to primarily study at Khon Kaen University from 1988-1991. Then, in 1991, all staff and students moved to the new campus located in Warin Chamrap District, Ubon Ratchathani Province, occupying approximately 5,228 rai (836 hectares). UBU was officially established as a university by Royal Charter in 1990.
The university logo is in the form of a Lan Xang period chedi, a common religious structure in Isan. The chedi contains a lotus blossom resting upon a three-tiered pedestal. The three-tiered pedestal represents the three main rivers of the province: the Mekong, the Chii, and the Mun. The blue outline of the logo represents the strength and stability of the university while the yellow background is the official color of the university.
Presently, UBU has been teaching for 30 years and offers 84 courses for bachelor's, master's, and doctoral degrees in the disciplines of Arts, Humanities and Social Sciences, Health Sciences, and Sciences and Technology within its 1 college and 10 faculties.
Over a period of 30 years, UBU has grown steadily and developed continuously to be a center of education, research, academic services and art & culture preservation under the administration of the following presidents.
Associate Professor Dr. Somchit Yodseranee 1990-1999
Professor Dr. Phaitoon Ingkasuwan 1999-2002
Professor Dr. Prakob Wirojanagud 2002-2010
Associate Professor Dr Nongnit Teerawatanasuk 2010-2019
Assistant Professor Dr. Chutinun Prasitpuriprecha 2019-Present
UBU has been recognized for its high standards both at a national and international level. In 2020, UBU was ranked #79 in the world and #1 in Thailand for the United Nations (UN) Sustainable Development Goal (SDG): Sustainable Cities and Communities in the Times Higher Education (THE) Impact Rankings 2020. Moreover, for the SCImago Institutions Rankings, UBU was ranked # 464 in the world and # 4 in Thailand.
UBU is committed to upholding its mission and philosophy to be a leading university in ASEAN focusing on innovation and enhancing the quality of life. To complete this mission, UBU emphasizes four strategies including academic excellence, a shared community future, smart university and sustainable growth. Additionally, UBU upholds its core values consisting of prioritizing UBU, pragmatic management, proactiveness, accountability, creativity, teamwork, and a focus on stakeholders.
English by: Jarinda Boonjan
Original (Thai) version by: Piyanat Soikham
English revised by: James K. Powell II
Photos by: Plern Wichaiwong
More :
link 1