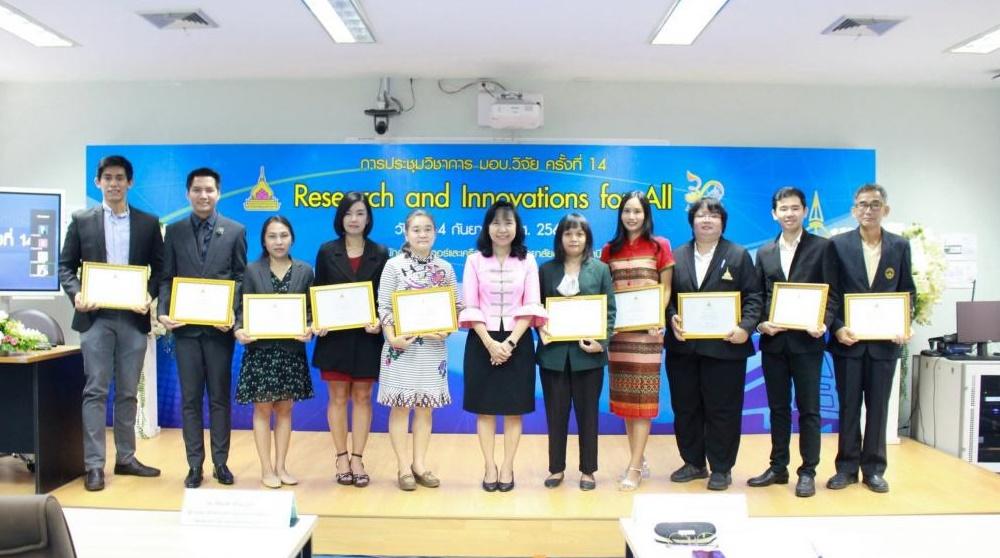 ---
Patcharin Jongjai 2020/09/04 , ( 374 views)
---
On 3-4 September 2020, UBU organized the 14th UBU Research Conference at the Office of Computer and Networking, UBU. The conference was officially opened by Assistant Professor Dr. Chutinun Prasitpuriprecha, President. Associate Professor Dr. Chawalit Thinvongpituk, Vice President for Research, Innovations, and Academic Services, delivered the objectives of the conference to the audience. The event offered a special lecture, research paper presentations and awards to outstanding researchers.
Assistant Professor Dr. Chutinun Prasitpuriprecha said that the conference will aim to provide a space to showcaselecturers' and students' projects and research, including cooperative research completed by UBU and other organizations.The conference served as a session for researchers from various fields to share and exchange ideas on their topics of interest.Moreover, the conference created an innovative research atmosphere at the university where young researchers were supported, developed and promoted.Consequently, the conference encourages UBU to achieve its mission statement, to become "A Leading University in ASEAN Focusing on Transforming Life Quality and Innovations". The university is committed to create and develop knowledge, research and innovation that can solve community problems. In addition, it aims to strengthen the economicconditions of communitiesand improve the quality of life of people in manifold aspects.The conference also promotes cooperation in the development of research, helps implement the national development strategy and the needs of society and benefit the public.
Associate Professor Dr. Chawalit Thinvongpituk stated that due to the Covid-19 situation, the conference was mainly presented through an online platform. However, some activities were organized in meeting rooms and allowed for audience participation. This year, there were a total of 92 research papersthat were presented in the conference. Of the 92 research papers, 51 papers were presented orally while 42 papers were presented as postings.A total of 84 participants attended the event.
In addition to the research presentation, a special lecture titled Roles of Researchers and Universities as a Driving Force for the Country was given. The keynote speaker of this special lecture was Dr. Kitipong Promwong, Director of the Office of National Higher Education Science Research and Innovation Policy Council. Moreover, on 4 September 2020, Mr. Promwong joined the International Conference on a Thailand-Vietnam Socio Economic Panel: Poverty dynamics and sustainable development, a UBU international collaborative project with Germany and Vietnam. This project has been operating for many years.
UBU congratulates all awarded researchers and expresses deepest thanks to Dr. Kitipong Promwongfor sharing his invaluable knowledge to the participants. UBU looks forward to similar future events.
English version by: Jarinda Boonjan
Original (Thai) version by: Plern Wichaiwong
English revised by: James K. Powell
Photos by: Therdphome Thong-in
More :
link 1