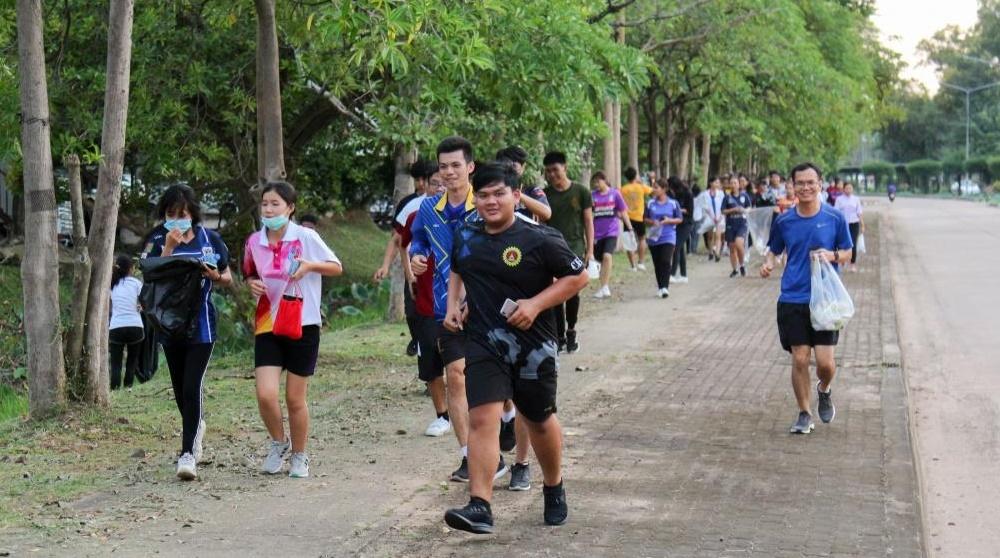 ---
Patcharin Jongjai 2020/09/10 , ( 326 views)
---
UBU's Green Club has organized a voluntary activity called the "Plogging Run" on 10 September 2020. The event aims to enable the UBU community to become a green university as well as to provide a new running experience where participants can have fun, improve their health and clean up the environment. Dr. Charuayporn Santhaweesuk, Vice President for Student Development and Alumni Relations, presided over the Run which was held in the academic vicinity, starting at His Majesty's 7th Cycle Birthday Anniversary Commemorating Building. The running distance was 3 to 7 kilometers. There were a total of 500 UBU students who participated in the event, collecting waste amounting to 78.4 kilograms.
Mr. Ratchawut Kotlakome, advisor of the club, shared that the Plogging Run event is an annual activity organized by UBU Green Club and this is the second consecutive year it has been held. This type of event has become quite popular and trendy among many people around the world.
All runners carried a plastic bag and collected garbage between the routes to improve the environment, beautify nature and maintain shady parks. The event was filled with happiness, fun and unity. After finishing the run, all runners exchanged their collected garbage for a souvenir coin. This event received great support from the Faculty of Engineering, the Faculty of Science and the Faculty of Pharmaceutical Sciences at UBU.
Mr. Sathaporn Saisri, a 4th year Environmental Science student and the Chair of the club, called the Plogging Run a very unusual running activity and a novelty creative volunteer spirit effort. It also contributes to garbage removal along the running track. The runners improved their health quality while cultivating awareness of environmental protection. Mr. Sathaporn Saisri, on behalf of the UBU Green Club, expresses deepest thanks to all participants. In addition, he thanks the Department of Environmental Quality Promotion, Ministry of Natural Resources and Environment for its on-going support of environmental awareness activities.
English version by: Jarinda Boonjan
Original (Thai) version by: Plern Wichaiwong
English revised by: James K. Powell
Photos by: Therdphoom Thong-in
More :
link 1