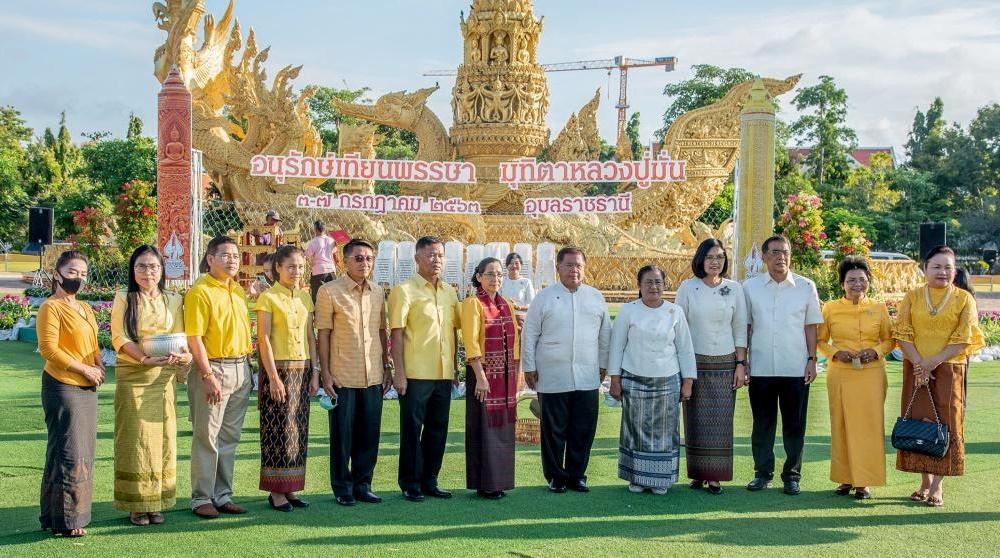 ---
Patcharin Jongjai 2020/07/07 , ( 316 views)
---
On 7 July 2020, Dr. Amphol Panvong, Director of Educational Services Division, and Ms. Manthana Jeuboon, Head of the General Administration Division, led UBU staff members to participate in a merit-making event at Thung Sri Mueang Park. Mr. Sarit Witoon, Governor of Ubon Ratchathani Province, presided over the event and led representatives from multiple government and private sector organizations in Ubon Ratchathani to give alms and lotus flowers to 119 monks. The objective is to preserve Buddhist Lent candles and worship Phra Ajaan Mun Bhuridatta Mahathera or Luang Pu Mun.
Luang Pu Mun is one of the country's most venerated monks. He was named by UNESCO as one of its world 'Eminent Personalities' for his work promoting peace in the world.
UBU is grateful to have participated in various cultural activities as it is part of the university's mission to preserve the local arts, culture and wisdom.
Revised/translated by: Jarinda Boonjan
Original (Thai) version by: Therdphoom Thongin
English revised by: James K. Powell II
Photos by: Therdphoom Thongin
More :
link 1