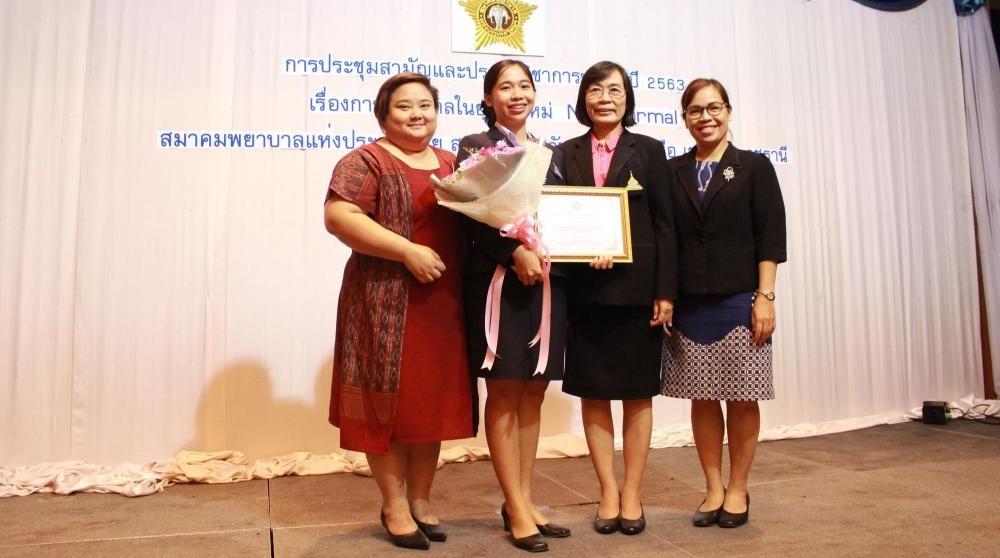 ---
Patcharin Jongjai 2020/09/22 , ( 495 views)
---
Miss Thanapon Inkaew, a 4th year nursing student was awarded the Nursing Student Award for the year 2020 from the Nurses' Association of Thailand, Northeast Region Branch on the 22nd of September, 2020, at the Grand Ballroom, Laithong Hotel, Ubon Ratchathani. Assistant Professor Dr. Sanguan Thanee, Dean of the Faculty of Nursing along with lecturers, congratulated her on her award and participation in ordinary and academic meetings for the year 2020.
Miss Thanapon Inkaew or "Tinny", 22 years-old, a 4th year nursing student, from Phayao province. She had an excellent GPA, participated in many outstanding activities, creative projects, volunteering, and leadership during the course of her degree. She was chairperson of the student club at the Faculty of Nursing, and received a GPA of 3.38.
Miss Thanapon Inkaew said that she was delighted and proud of this award. She would like to thank all related persons: the executive board of the Faculty of Nursing and lecturers, for their training, including many opportunities to demonstrate creative innovation. She was fully satisfied with her studies at the Faculty of Nursing, UBU, which served as a second home for her due to the warmth, love, and relationships she experienced at the university. The entire student body was kind and mutually encouraging.
Miss Thanapon Inkaew's outstanding creative innovation was a "2 in 1 mattress". This mattress relieves pain from activity and available herbs could be used to relieve pain and enable sleep for elderly persons. This mattress had been tested and the results revealed that the mattress was effective and safe for the users. Dr. Sompong Pamulila was an advisor to this project and this creative innovation was presented at the conference through a poster presentation under the concept: "Role of Nurse: Challenge in Digital Technology."
Miss Thanapon Inkaew was a UBU good model for the other students who focused on study and also experiences outside the classroom.
English version by: Kanjana Manomai
Original (Thai) version by: Plern Wichaiwong
English revised by: James K. Powell II
Photos by: Plern Wichaiwong
More :
link 1